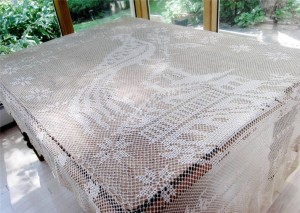 We're selling an exceptional collection of antique lace, found carefully stored away for decades. Identified as "Mama's lace from the Old Country" on the bins, the pieces are outstanding quality and in excellent condition unless noted.  Victorian era, late 1800′s and early 1900′s with a few pieces having the date hand woven into the pattern.
Quite an opportunity to add to your collection.
This listing features the most exceptional of all of them in my opinion. "God Is Love 1904″ tablecloth woven into the extremely intricate design pattern.
90″ x 57″ 
Elaborate design includes Peacock or Pheasant perched on tree branch overlooking a church, floral petals around. The border is fantastic — puppy dogs prancing all around the entire tablecloth. 
Card with it says "Made by Great-Aunt Varsenig Begian, Mama's Sister-in-Law."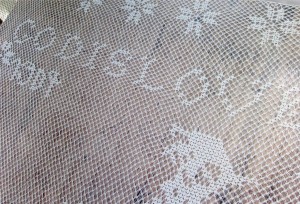 Condition is excellent; has been carefully stored for generations and generations. A few loose stitches if you look intently at pattern, but I'm not overstating when I say this is as good as one could hope for such a piece. A true OOAK piece. 
Please look at photos carefully to see all the lovely details, including the softly curved corners so that the cloth lays flat on the table. 
See our others in our eBay Store collectibles, if you want to add some of the finest quality pieces to your collection.