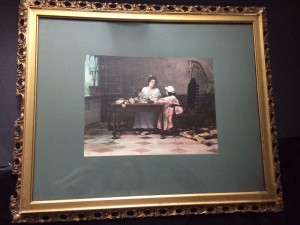 We're selling a wonderful local collection of original Ullman Manufacturing Company photo prints, each in their original frame under glass. Known in late 1800's and early 1900's, they were the originators of "Photo-color" prints, taking classic works of art and copyrighting and hand coloring their images. We are delighted to have found so many wonderful examples; they look great in groupings and we're happy to combine shipping for extra savings if size permits.
We also have their original catalogues, so were able to actually reference name and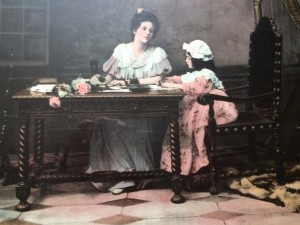 number of each work of art.
Featuring here a striking 1898 print titled "A Letter To Papa", reference number 535.   Sweet image, Victorian girl is working on a letter to her Papa with her Mama's guidance.
Image size 20″ x 16″, framed size substantial 23″ x 20″.
This was offered on the green mount as shown.
Print is excellent.
Original frame was built with multiple layers of molding. Outermost layer has some damage to a few of the scrolls but still works very well on display.
This Photo Print and many other Ullman Victorian Color Prints are available in our eBay Store Connectibles.