Gorgeous and dramatic Black Metal Snake Necklace Very long 38″ Mesh or belt, usually attributed to Whiting & Davis but ours is unmarked.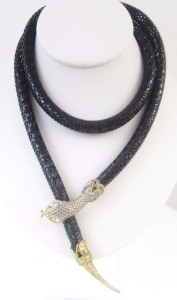 Self adjustable, can clasp where you prefer. Can be worn double wrapped as choker, long single strand necklace, or belt.
Circa 1960's or 1970's, excellent overall condition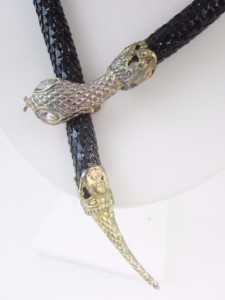 with minor light color change in one area where the head was clamped onto the body. Shown in last photo, hard to see and doesn't detract at all.
Finish on head and tail is combination silvertone and goldtone with rhinestone crystal eyes. Very light wear.  Find this and other Vintage Jewelry in our eBay Store Connectibles.