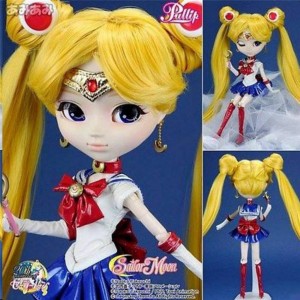 Pullip Sailor Moon Doll:  In celebration of 20 years of continued success, a dream collaboration has been made reality between high-quality doll company Pullip and the world famous series Sailor Moon.
Characteristic pigtails and soft makeup have been faithfully recreated. You can open and close her eyes and move them side to side.
Includes hair accessories, earrings, compact, Moon Stick.
This Pullip doll is of the heroine Sailor Moon, soldier of love and justice!
It's evident Pullip took great care planning her outfit because everything from her ornate twintails to knee-high boots is perfect! She even comes with her Moon Stick that she can hold on her own and is so poseable, you can even make her blink! Now is your chance to snatch this amazing collectible sure to be treasured by all Sailor Moon fans!
New, never removed from original box.  Please look at all of our beautiful Pullip Dolls in our eBay Store Connectibles.