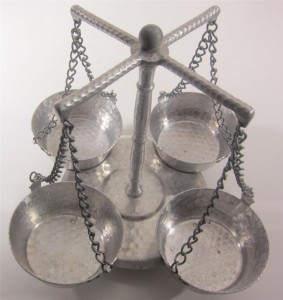 Love to decorate with mid-century vintage housewares?  Pictured here is a most unusual hammered aluminum set including a lazy susan stand with 4 chained hammered bowls hanging down, and a separate serving tray. Chip & Dips, condiments, candy, tidbits – you name it, this set can handle it!
I love the look of all the pieces! Details:
♦ Centerpiece measures 8″ across x 12″ high, and spins and revolves like a merry-go-round!
♦Hammered pattern on the 4 bowls.
♦Tray measures a substantial 19″ across, and has embossed floral decoration and rippled edges.
♦All pieces are in very good condition but you may wish to polish & clean. Matte finish, fantastic retro mid-century design that makes quite a statement on your table!
Available in our connectibles ebay store.