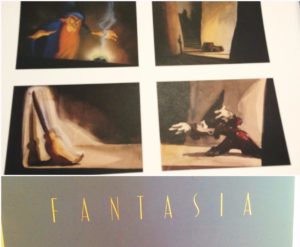 We're selling some very special pieces of Disney memorabilia, fresh from a serious collector with a great eye! Highlight of the collection is this FANTASIA BOXED LITHOGRAPH PORTFOLIO #352/500. This special boxed set has long ago sold-out and is extremely hard to find, if at all! It initially was introduced for $1800.
Our set is in new condition in terms of the prints which are pristine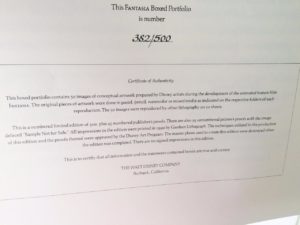 and mint. The outer box has a few imperfections (water spots) from storage as shown in photos but nothing that detracts from the magnificent art inside.  Save as a reference library or frame your favorites or even ALL of the 22 lithographs for a stunning wall of art. Each piece is numbered with the 352/500 on lower left and measures 20″ x 16″.
DETAILS:
On, November 13, 1940, Walt Disney's FANTASIA premiered at the Broadway Theater in New York. To celebrate the film's re-release in 1990 for its 50th anniversary, the Disney Art Program created this boxed portfolio of 50 images of conceptual art that inspired Walt and his artists during the making of this animated masterpiece. 

The portfolio was designed and its production supervised by Patrick Dooley. Mr. Dooley also worked with David Cleghorn and Esther Ewert with research and review of the film's original artwork to select images representing each of FANTASIA's eight major movements.

The pieces in this collection, reproduced by Gardner Lithograph in Buena Park, California, were printed on Mohawk Superfine 80-lb. cover in four-color process and duotone. The prints are faithful reproductions of the original art. 

Each of the 50 images were reproduced on 22 lithographs. They are placed in protective folders with an introductory essay and narrative explaining the scene, artist and original medium.

The portfolio box is covered with Iris bookcloth and stamped in 23-karet gold foil, handcrafted with the highest quality acid-free materials. This collection can be enjoyed for generations to come as it is truly a work of art. 
The FANTASIA Boxed Lithograph Portfolio has been produced in an edition of only 500; you are purchasing number 352/500, authenticity certificate on first page.  Take a look at some of our other Disney memorabilia in our eBay Store Connectibles.