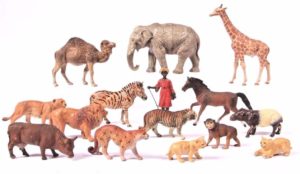 Remarkable collection of antique composite wildlife animals along with an African/Egyptian figure. I was going to piece them out but honestly this is dramatic with them all together that I am listing as a collection first.
Mostly Elastolin and Lineol unmarked Germany figures, largest is the elephant at 6-1/4″ x 4-1/4″.
Condition is consistent with age but overall most are very good. Zebra paint layer has flaking and losses more than the others.
Please look closely at photos to see what wear and tear is on them.
A very special collection, impressive on display.
Includes 1 figure, giraffe, Capybara (I think), elephant, zebra, tiger, camel, lion, lioness, buffalo, horse, leopard, monkey, cat or lion cub set 2.
See these and many other collectibles in our eBay Store Connectibles.