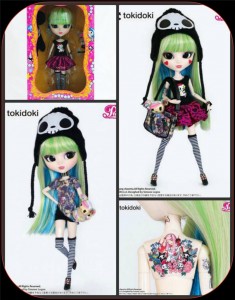 Love big-eye Japanese fashion dolls like Blythe? The Pullip dolls by Jun Planning are not as well known, but they have a very strong Japanese style to them, and they evoke the very popular Blythe doll – sort of a Blythe granddaughter!  Amazing dolls, and now we are even more excited to offer to you the Tokidoki Pullip doll LUNA, from the first collaboration between the two trendy and fashionable companies.
Just released, new and never removed from box!
Tokidoki is a brand created by Simone Legno, an Italian artist who loves Japan. The brand is based on cute, funny and sexy designs, which is reflected in the design of this gorgeous doll!
Hair is a mix of different colors.

Tattoos shown on her body are stickers that are included; you can make your own design!

Luna comes with Adios beanie, Stellina top, skull and cross bones patterned flair skirt.

She also has her own Portrait bag, to carry her Donutella plush in style!

Asymmetrical shirt features a pattern made from designer Simone Legno's painting.
This is a VERY special Pullip that we predict will become very difficult to find shortly.  Look at all the Pullip Dolls in our ebay store connectibles.