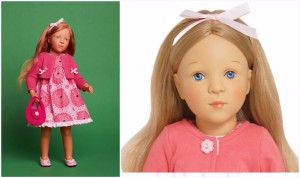 We're delighted to be offering the first series of artist Sylvia Natterer dolls designed for famed French doll company Petitcollin. Beautifully and safely made in Spain, all are hand painted, phthalate-free vinyl, with sophisticated clothing ensembles. You'll want to collect them all! New and never removed from original box.  We sold out immediately on our first shipment and then waited 3 months for our second. Once these are gone I'm not sure how long it will take to get more inventory from France so don't delay and end up disappointed.
Shown here is SMILLA, a 48 cm (18-3/4″) all vinyl doll that has long blonde rooted hair with center part. These dolls are beautifully poseable. .
Details:
Blue handpainted Eyes
Layered long blond hair
Articulated head, arms, legs
Pink Dress with floral pattern, coordinating shorts underneath
Cardigan made of pink jersey with pin bow that matches her hair ribbon
White Jersey one-piece body suit with white tights
Pink ballerina shoes
Pink coordinating felt purse completes this lovely ensemble!
​See the others also, as you won't want to stop collecting with just one! We have these in stock, in hand, among the first dealers in US to offer them!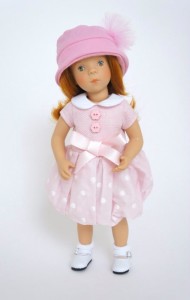 Also shown here is an especially pretty Minouche Natalie, a 34 cm (13″) all vinyl doll with gorgeous red hair.  These dolls are highly poseable and she has bent arms which give both a natural appearance and allow her to be posed holding things in her arms.
Details:
Green handpainted Eyes
Rooted Red hair, flip layered style
Articulated head, arms, legs
Short sleeved pink cotton dress with bubble skirt with embroidered dot pattern. Peter pan collar.
Pink felt hat has fun flower on the side.
One piece stretchy jersey body suit underneath.
White mary-jane type shoes with pale pink socks.
These beautiful Dolls and Others are available in our eBay Store Connectibles.