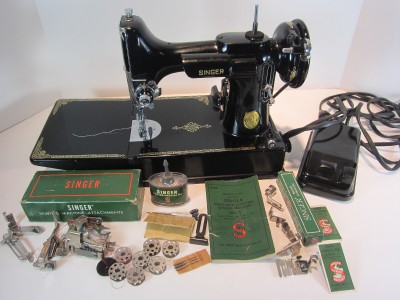 We're always excited when we find a Singer FEATHERWEIGHT Sewing Machine to offer, as we know how much they are loved! Here is one of the CLEANEST and nicest models we've ever offered, highly collectible.
Details are as follows:
•Singer Portable Electric Sewing Machine 221-1 in original case with accessories.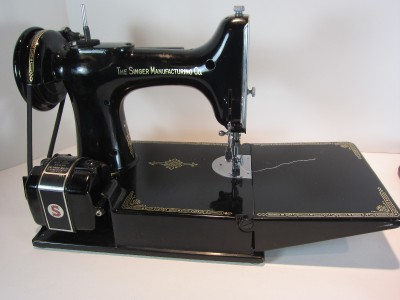 •Number AJ202548, with production date of 1950.  
•Starts easily, appears to run smoothly, but all I did is turn it on as I am not a quilter or seamstress.
• Condition outside is overall EXCELLENT, with minimum marks on glossy finish.
• Decals are excellent ART DECO style as you can see in photos. Medallion gold is sharp.
•ORIGINAL Striated plate is excellent.
•Original bakelite pedal is excellent. Cords intact and clean.
•Carrying case with handle is excellent. Doesn't have that oil odor that so many cases have. Measures 14-1/2″ x 8-1/4″ x 11″
 LOTS of accessories including instructions booklet dated 1950, oil, lubrication, keys, needles,  attachments as shown in the photos.   Take a look in our eBay store connectibles.
TERRIFIC version of this highly collectible Singer!