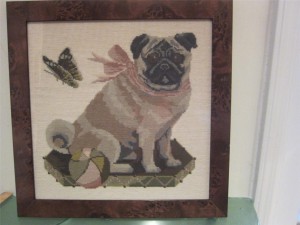 We're delighted to be offering a group of completed Elizabeth Bradley English tapestry kits from her Victorian Animals series. BEAUTIFULLY hand done, the needlepoint quality is outstanding. Instant handcrafted gallery for your home!  New kits alone are $230, mounting and framing easily $200, and then there's the hours and hours of needlepointing to bring these to you ready to hang.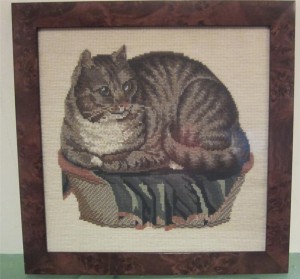 Each has been professionally framed under glass with an elegant rich burl wood frame, and measure 19″ x 19″.  Frames are excellent but somebody piled these on top of each other to transport them so there are a few areas of scratch marks on each from the screws that touched them.
These beautiful needlepoints are available in our ebay store connectibles.