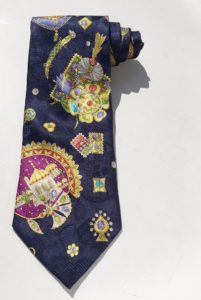 Leonard Paris Couture Mens Silk Tie.  We've just had an opportunity to obtain the highest quality group of men's Italian clothing & French boutique accessories from the collection of a fashion-forward male fashionista!  He bought literally thousands of pieces of designer clothing that he never wore, just "collected" them. Unique opportunity for you to add to YOUR wardrobe at a fraction of his original prices. Please look closely at photos for details.
Featuring here: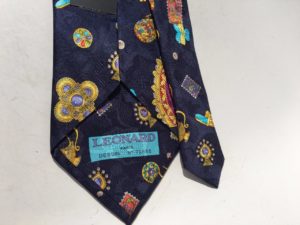 Brand:  Leonard Paris Couture, known for their stunning colorful unique patterns and designs
Original Price: $265
Item:  Men's Tie
Fabric: 100% Silk
Color: Navy Blue Background, jewel tone pattern
Style Name or Number:  Taj Mahal & Royal Jewels
Size: 59″ x 3-3/4″ at widest
Condition: New With Orig Tag
This beautiful tie, plus many others Italian ties are available in our eBay Store Connectibles.